Description
Bakuchiol Age-Defying Facial Oil
Best Seller!
ETERNITY Age-Defying Facial Oil moisturizes, protects, and reduces the appearance of fine lines and wrinkles. It penetrates quickly leaving the skin with a smooth non-oily after feel. The product combines Bakuchiol with a variety of light, penetrating, and nourishing oils and is enhanced with the age-defying Vitamins A, C and E.
Facial oils have become an important product category in skin care. The appeal of facial oils results from consumer interest in natural products, since plant oils and other natural ingredients are typically used in this category of products.
ETERNITY Age-Defying Facial Oil revitalizes and moisturizes the skin as it smooths fine lines and wrinkles and evens skin tone. The product is a natural, carefully balanced formula containing a combination of Bakuchiol with light penetrating carrier oils enriched with three anti-aging vitamins.
Below is information about the ingredient components in ETERNITY Age-Defying Facial Oil:
Bakuchiol is a plant-based (from Psoralea corylifolia) alternative to Retinol. It has retinol-based effects without the associated side effects. It is stable, safe for daytime use, and has low irritation and sensitization potential.
A 0.5% Bakuchiol lotion was applied twice daily for 12 weeks shows a reduction in the look of fine lines and wrinkles: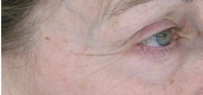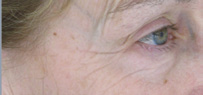 Before Treatment vs After 12-week Treatment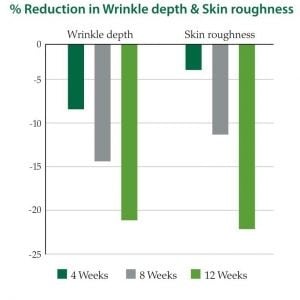 Crambe abyssinica (abyssinnian) seed oil contains omega-3 (linolenic) and omega-6  (linoleic) essential fatty acids for skin revitalization and conditioning. It is a natural seed oil with an ultra light, non-greasy skin feel.
Caprylic/ capric triglyceride (fractionated coconut oil) is a light-textured, non-greasy liquid oil which has an almost indefinite shelf life and is easily absorbed into the skin making it an excellent carrier oil and base for oil-soluble nutrients such as the vitamins.
Argania spinsosa (argan) oil is a rare and precious oil that is harvested and extracted from the nut of the argan tree. For centuries, women across the Mediterranean have used argan oil in their beauty regimen for vibrant, healthy-looking skin.
With its high content of antioxidants, essential fatty acids and vitamin E, the benefits of argan oil naturally help revitalize skin. It is a powerful antioxidant, UV-protector and free radical neutralizer.
Rosa mosqueta (rose) hip oil is  a cold pressed natural oil with a light non-greasy skin feel that moisturizes dry or damaged skin. It is good in facial products to maintain or increase skin's elasticity or firmness, reducing the look of fine lines and wrinkles, and reducing the look of acne or photo-aging skin.
Hoppophae rhamniodes (sea buckthorn) seed oil is included to help combat wrinkles, and to sooth dry irritated skin. The oil is very high in linoleneic (omega-3) and lineoleic (omega-6) and has a high vitamin E content.
Persea qratissima (avocado) oil is one of the richest sources of  monounsaturated fatty acids like oleic acid which benefits the texture and appearance of your skin.
Not only is avocado oil extremely good at hydrating and softening your skin, is it also good for acne-prone skin, various skin problems, reducing the look of age spots and smoothing out fine lines and wrinkles.
Retinol Palmitate is an exfoliator and helps shed the upper dermal layer encouraging the skin to produce more new cells.  Retinol Palmitate is the ester form of Retinol which is less irritating and more stable than Retinol (vitamin A). It is one of the best known and best studied of all anti-aging ingredients.
Ascorbyl Palmitate is a stabilized oil-soluble vitamin C derivative  with many documented skin benefits including reducing the look of wrinkles, skin brightening, protection from environmental exposure, and clearing acne-prone skin.
Tocopheryl Acetate is also referred to as Vitamin E acetate. It is a popular ingredient in skin care products utilized to revitalize tired and dull looking skin. Tocopheryl acetate is an antioxidant which helps reduce the look of wrinkles and it is an environmental protector.