How to Book ?
If you desire to book an online appointment, please start at the online appointment page, then follow the steps
Step 1 - Choosing the Type of Service
If you desired to receive the video call trought Whatsapp on your smarphone, select "30min Whatsapp Appointment".*If you choose to have your appointment trought Whatsapp please add our number to your contacts: +1 (786) 906-8954
If you desired to receive the video call trought Skype on your smarphone or computer, select "30min Skype Appointment".*If you choose to have your appointment trought Skype please add us: doc.landivar to your skype contacts
Once you have decided which type of appointment your desire, make sure only the right option is selected and click on "continue"
Step 2 - Choosing the Date and Time
On the second step, you will see a calendar , you can only book up to 30days in advance. Click on a desired date, and you will see under "Available times for xxxx/XX" the hours available, if none are available then please select another date.
Once you find a date you like which has available time, click on the time you desire to book to select it, then, click on "continue"
Step 3 - Your Details
Please fill all the information carefully, if you put in wrong email and wrong phone number, we then have no ways to contact you. So please be careful and enter the right information.
If you have bought an appointment before, after entering your email, you might see the other fields disapear and get replace by a "Secure Profile Loaded from StartBooking.com ", its all good this only means we already have you details. Then click on "continue"
Step 4 - Summary
On this page you will see the date and time you selected, then the service and the total amount due.
Just under you get a Stripe secure payment form. Fill in your card number, month/year, CVC and postal code, then click "Pay Now".
The process length will vary depending on your internet connection, please make sure to wait until you get the confirmation message.
Create an Account
Registering yourself for an account on drlandivar.com brings you many benefits, here is a short list:
checking your current order status
referencing your order history
maintaining your address book
reviewing products
keep items in your cart
Backorders
For orders shipped in the United States with a backordered item, we'll ship the in-stock items right away. If the backordered item doesn't arrive within 30 days, we'll cancel it and you won't be charged. You'll only be charged if the backordered item is sent, and you won't be charged for additional shipping.
For international orders with a backordered item, we'll hold your entire order for up to 7 days. If the backordered item doesn't arrive by then, it will be cancelled and the remainder of your order will be sent.
Order & Shipping Confirmation
You'll receive an order confirmation email within 24 business hours after placing your order. You'll also receive a shipping confirmation email when your order ships. Contact us if you don't receive a shipping confirmation within two business days of receiving your confirmation email or if you need to update any information regarding your order.
How long will it take to process my order?
We normally allow up to 48 business hours to process your order, but this varies based on order volume, payment issues, etc.
Order Acceptance
Dr. Landivar reserves the right to refuse or cancel any order for any reason. Some reasons for possible order cancellations include, but are not limited to, the following:
Inaccuracies in product availability status, limitations or prices

Restricted products or ingredients based on state, national or international regulations. See the list of known .

Credit or fraud concerns, as determined by our loss prevention group
Order History
Not sure what you ordered last month? No problem. As a registered user, you're able to check your Order History and find out what (and when) you ordered in the past.
Product Availability
We indicate availability of each item on the product page near the Add To Cart button. An item is either In Stock, Usually Ships Within 2-4 Business Days, Available Soon or Coming Soon. This information is also available in your shopping cart below the item name.
How many promotional offers can I use at one time?
You can use one promotional offer per order. If you have multiple offers, please select the best deal for you at the time. Please note: this will override any online promotions, prices, discounts or any other web advertisements previously entered in your shopping cart.
Where do I enter my promotional offer code?
Enter the code in your shopping cart during checkout.
Returns
If You Need to Return a Product, It's on Us.
If you've ordered a product that isn't quite right, simply return the unused portion within 30 days for a full refund.
Our customer support team is available to listen to your concerns, answer product questions, and guide you toward the best solution. Call 1-786-906-8954
Expiration and Manufactured Dates
At Dr. Landivar, the products we sell are produced by Good Manufacturing Pratices (GMP) compliant manufacturers that me all the specific standards for potency and quality. We demand that our manufacturers formulate products that will maintain their quality for the expected timeframe.
All our products include a Best By date.
A "Best By" date indicates that the product will successfully meet the claims made on its label up until the date given. Our products undergo rigorous stability testing to determine the most accurate dating for our finished products.
Nutrition Facts Label Guide
Not sure what our nutrition labels mean? Here's a guide to a typical nutrition facts label. Some information is subject to change based on the type of product.
Please note: Due to Nutrition Facts label changes from the FDA, the labels will appear different from what you may be used to seeing. This change will be implemented on all Nutrition Facts labels by 2018. These changes include larger/bolder font, added sugar amount and updated daily values and nutrient amounts.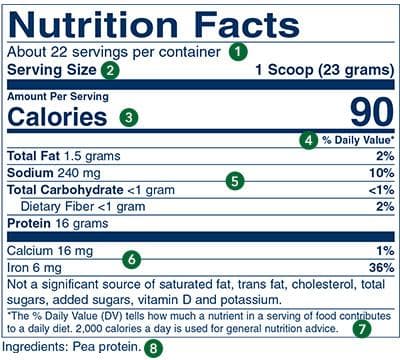 1. This indicates how many servings are in the container.
2. The serving size indicates the recommended amount per serving.
3.The calories show the total number of calories in one serving.
4. The daily values are the per-serving percentages of the recommended daily intake established by the FDA as the amount the average American needs to maintain good health. Daily values have been established for the majority of vitamins and minerals. Nutrients with no percentage or an asterisk in this column do not have an established daily value.
5. This section indicates the amount of total fat, sodium, carbohydrates, fiber and protein found in each serving.
6. This list indicates the amount of specific nutrients contained in each serving.
7. The Daily Value (DV) percentages found on the bottom of the nutrition label never change from product to product. It shows recommended dietary advice for all Americans.
8. The ingredients list indicates all ingredients necessary to complete the delivery system, and to ensure product freshness and stability.
9. The manufacture, expiration or best by date printed on the label represents the date the product was produced in compliance with Good Manufacturing Practices (GMP) regulations or date by which it is recommended you use the product before it starts losing its quality.*
10. All Dr. Landivar items are issued an item number, usually located on the bottom of the container or on the back of the label.*
*Not shown on label image above.
When will my products expire?
All products, excluding probiotics and liquids, will maintain full potency for 2 years from the manufacturing (mfg) date. Probiotics and liquids have a best used period of one year from the mfg date.
What if I want to take more than the label recommends in the directions?
We suggest following the directions on the label, but there may be exceptions. The amounts of supplements used might vary with level of need from general maintenance to a higher level of support. If you're considering higher levels of support, check to see if there's a powdered form with a higher dosages than capsules, softgels or tablets; if there is, you can take up to an equivalent amount in pill form. Otherwise, consult a health care provider for range of use and toxicity.
Can I give this supplement to a child?
We don't recommend giving supplements to children unless they are specifically formulated for children or have a specified dosage for children on the label. Otherwise, our products and recommended usages are intended for adults. Check with your health care provider to determine if a supplement is appropriate for children and what amount should be used since dosages are often based on weight.
Can I still take a product if it's expired? Will it become toxic? How long can I continue to take it beyond the best used date?
Products won't become toxic, but they'll gradually lose potency beyond the best used by date. Probiotics, fatty acids and liquids should be used as soon as possible after the best used date since they're more vulnerable to loss of potency. Most supplements in pill or powder form can be used for another year past the best by date. Minerals, which are very stable, could even be used for two years past the best by date. We don't have research documentation on the rate of potency loss beyond the best by date.
Can you refrigerate or freeze softgels?
Softgels should not be refrigerated since the glycerin may absorb moisture condensation due to temperature changes, resulting in the softgels sticking together. When softgels are frozen, expansion of contents may cause breakage or leaking, so freezing is also not recommended.
Why isn't my container of powder full?
Containers are filled by weight, not by volume. Settling can occur with shipping. Also, some "head room" must be allowed for high speed filling of containers since contents will "poof" with filling and need extra room to allow for this.
Why are there dark speckles and/or a dark ring around the closure of the capsules?
Some oxidation may occur because the halves of the capsule are not tightly sealed and may permit a little moisture and oxygen to penetrate. This doesn't harm the nutritional value of the product.
What if I want to take more than the label recommends in the directions?
We suggest following the directions on the label, but there may be exceptions. The amounts of supplements used might vary with level of need from general maintenance to a higher level of support. If you're considering higher levels of support, check to see if there's a powdered form with a higher dosages than capsules, softgels or tablets; if there is, you can take up to an equivalent amount in pill form. Otherwise, consult a health care provider for range of use and toxicity.
What's the difference between "empty stomach," "with water" and "with food" in the directions?
"Take on an empty stomach" means you should take the product one hour before or two hours after eating; you can take other supplements at the same time.
"With water" means the supplement must be taken with water to ensure that you don't choke on the pill and that it's properly dissolved in the stomach; the product can be taken with or without food.
"With food" means that the product should be taken at mealtime or with a snack for best utilization and/or to avoid stomach upset.
Can I remove the product from the capsule/softgel and take it that way?
If a product is an enteric or time release formulation, you may lose these special features by removing the contents from the capsule or softgel. This might also leave some nutritional supplements vulnerable to stomach acidity. Others can cause stomach upset or other discomforts without the protective coating. You could potentially lose about 20% of the contents when removing from the capsule or softgel.
Some supplements may also irritate the oral mucosa. For example, we don't recommend taking cayenne out of the capsule and putting it in a smoothie.
Will the supplements interact with my medications?
Since we aren't licensed as pharmacists or medical practitioners, you'll need to consult with either your pharmacist or health care provider about interactions.
Can I take all the capsules/tablets at once even though directions say to take one capsule two times per day, etc?
Directions may be intended to maintain a particular blood level based upon how quickly the supplement might be cleared from the blood or maximum amounts that might be absorbed or tolerated at one given time. If the manufacturer recommends divided dosage, stick with that. If the product simply says "Take two capsules per day," you may take them individually or both at once.
I submitted a customer review. Why isn't it showing up on your site?
Customer ratings & reviews may take up to 72 hours to process. If you do not see your review after this time frame, please email us at doc.landivar@gmail.com and we'll be glad to assist you. Please note: we do have strict review guidelines in order to be in compliance with the FDA and FTC.
Why did my review get rejected?
Due to government restrictions, we are unfortunately not able to publish reviews that include a medical or disease claim for a dietary supplement. There are other things we aren't able to publish, such as obscenities, "spam" content and specific contact information. If you still have questions, contact doc.landivar@gmail.com.
International Payment Methods & Processes
We gladly accept these payment methods online: Credit cards associated with Visa, MasterCard, Discover, American Express and JCB; debit cards associated with Visa and MasterCard. Note: PayPal is only accepted on U.S. orders.
If you experience difficulties using your credit or debit card to make an international purchase, please contact your bank to ensure that your card has been enabled for international purchases.
Credit Card Verification
For your protection and ours, it's important to be sure that credit cards are being used by their rightful owners. As a first time customer, it's possible that we may need additional information to verify that you are the account holder. Our international team will request additional information if needed. Watch for an email from this address: doc.landivar@gmail.com.
We Accept
Visa
MasterCard
AmEx
Discover
JCB
Payments can be done through Stripe or Paypal.
Since international orders cannot be verified electronically or by telephone, we may need extra information. Once the requested information has been provided and reviewed, your order will be processed. Information that cannot be verified may cause a delay in shipping.
International Shipping Options & Information
Shipping costs for international orders are based on the weight and destination of your order. To find your options for shipping methods, simply place items in your cart and enter your shipping address. You'll be given all shipping options available, along with exact costs during the checkout process.
Delivery timeframes are estimates and do not take into account weekends, holidays or processing and packing (please allow 24-48 hours for packing). An international order will not be considered "lost" until 30 business days from the date of shipment. Unfortunately, we are unable to process claims until this 30-day period has passed.
Please note that international shipping charges are non-refundable.
Although delivery estimates may vary depending on your country, basic information is below. Not all options listed will be available in all areas.
NOTE: Dr. Landivar can only ship to a post office (PO) box address in Qatar and the United Arab Emirates.
Split Shipments & Backordered Items
Large orders may be shipped in multiple boxes. Please note that shipping rates are per order, not per package. Backordered items will delay your international delivery and everything will be shipped together once all products are available.
Customs & Restrictions
To avoid delayed delivery of your order, we ask that you contact your customs office and ask about import regulations and restrictions. Becoming familiar with your country's policies prior to ordering makes ordering and shipping much easier for us and for you! Not knowing these regulations can result in your order incurring high import duties, the delivery being delayed or even returned.
Please be aware of any personal purchase limits set by your country. If your order exceeds the limit, you will need to arrange for a broker to clear your package through customs.
Restricted Items
If a product is restricted in your country, it will be noted in your cart, along with instructions to remove it before completing your purchase. Regulations change constantly, and we recommend that you check with your local authorities for updated information.
In addition to prohibited items, we are unable to ship free samples and all products requiring cold packs to international countries.
Refund Policies
Dr. Landivar is not responsible for any and all packages detained, impounded, delayed or returned to us by the country's customs department or clearing/brokerage agencies. It is the full responsibility of the customer to ensure that these vitamins and supplements are allowed by their customs. If an item is returned to us due to non-compliance issues with your country's laws or regulations, a refund will be issued for the merchandise only.
You may have to pay import taxes and/or customs duties. These, along with any brokerage (handling) fees, are separate from your shipping charge and you will be billed directly for them.
Please note: If your order is returned to us due to a banned or restricted products policy, a wrong address, refusal to pay customs fees, refusal to accept the order or because no one was there to accept delivery of your order, we will refund your credit card for the total amount of the order, minus the shipping charge.
If the cost to return the product to us is larger than the cost of the refund due, we will instruct the carrier to abandon the order and there will be no credit for the order. If the product is seized by customs, there will be no credit issued. Refunds will not be issued until we receive the package in our warehouse.
Declaration of Product Value
In compliance with international laws, we will state the full value of your order on the shipping label, minus the shipping charge. We will never list the package as a gift.
Tracking Numbers
Your shipping confirmation email will contain a tracking number for the carrier used to ship your order. Visit the carrier's website and enter the tracking number to check your package's progress.
Registered customers can check order status and access tracking numbers in their Order History.
How long will it take to get my order with standard shipping?
Our standard shipping time frame is 4 to 6 business days from the date your order ships. We normally allow 48 business hours to process your order, although this can change based on order volume.